The Israeli adult entertainment industry is on the rise with a massive variety of porn sites, mostly of
Israeli porn movies
and international porn movies for every taste and niche. In addition to Israeli sex sites featuring mostly movies that can be seen freely or in VOD, the
Israeli webcam
sex chat niche is also growing with new sites popping up with sexy Israeli girls, guys and couples who are willing to put on a private and uncensored sex show for paying surfers 24 hours a day-7days a week. Although a growing internet industry, the Israeli sex sites are unfortunatly not in the quality level of American or major European sex sites. There are no private sites of Israeli porn stars for example or quality Israeli porn movies that look above the amateur level. This is because there are no major adult production companies such as Vivid or Penthouse willing to deal exclusively in the adult industry as of yet and we hope that this will change.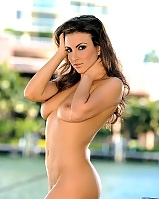 Finding Israeli girls and guys who are willing to participate in porn movies is not a problem, the problem is that many of the girls don't want to have the movies that they were featured in to be released in Israel, afraid that their family and friends will watch the porn movie. This is why many local porn movies use non-Israeli actors, mainly from Hungary, to star as Israeli girls. Hungary by the way is well known as the porn capital of Europe with many adult production companies such a Private Entertainment filming there.  Some Israeli girls have moved to the USA and became major pornstars such as: Daphne Rosen, Stephanie Kane, busty Eden Mor, and Playboy model Dana Lemor just to name a few.
We all hope here that the rise in the Israeli porn industry will continue and bring with it higher quality websites and content as well as gorgeous and sexy Israeli porn stars who are willing to enter the industry and do all that it takes inorder to make it bigtime.