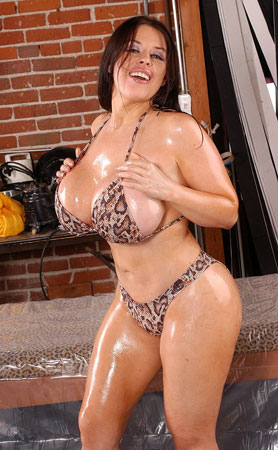 Most of you already know that there are successful Israeli porn stars and of course Jewish porn stars.  Today we will talk about a porn star famous for her 34F huge tits, round ass, and amazing capabilities.  Daphne Aviva Rosen was born on June 9th, 1982 in Tel-Aviv.  At age 3 she moved with her family to Boston where she eventualy studied at Amherst College.  After finishing school, Daphne went to Los Angeles to persue a modeling career where she was featured in many adult men's magazines thanks to her big tits and curvey figure.  Her move to porn movies came not to far later where millions could see her bif tits, round ass, full lips and great smile in action being fucked by the best in the adult biz.  In 2005 Daphne Rosen won the AVN award for the movie Faster Pussycat! Fuck! Fuck! and she is nominated this year for best orgy scene for the movie Ben Dover's Busty Babes USA.  A self declared bi-sexual Daphne can be seen in her XXX movies giving equal attention to dicks and pussy.  Her bouncing huge tits, full lips that suck every last drop of cum, her love for anal sex, and her constant smile no matter how hard somone if fucking her, make Daphne Rosen one of the most famous big tited porn stars in the biz.  This Israeli born Jewish porn star also offers private people to party with her one on one and to enjoy her big tits and round ass live and in the flesh.  Click more to view some free porn movies of Daphne Rosen.
The following are just a few of Daphne Rosen's porn movies.  Daphne's measurement are an amazing 34F-24-38 and as you will see she has no problem fucking and sucking both men and women and more than one at a time.  A real fun girl with big tits and a round ass that loves to fuck.  What more can a man ask for.
Daphne Rosen featured in the famous Big Tits Round Ass site in a scene named: Daphne Rosen Knows How To Ride. Daphne is shown at a farm near Miami because someone told me that there was this hot chick, with big juicy tits riding a horse completely naked. I couldn't believe this so I went there to prove it and I took my camera with me. This is the case: Beautiful Daphne Rosen, always loves to ride her horses naked so she can dell more in touch with nature. So introduced myself to her, and we started talking a little bit, then she took a bath and she didn't mind to be filmed. She was loving the camera so much that she started teasing it. This hot mama, is very sexual and very exotic. Her big tits and her enormous ass makes the perfect combination for a great FUCK! later that day, Justin, a regular of the farm, came by and started flirting with Daphne, then they started the party. Justin fuck Daphne so good that you are going to wish you were there!
Daphne Rosen featured in the famous Milf Soup site in a scene named: My Friends Hot Busty Aunt.  As written in the Milf Soup site: Toy,Rob,and another friend are hanging out in the living room when Rob's mom Harmony answers the door to welcome her friend Daphne who will be spending time at their home for a couple of days.On the way to Rob's room for a video,Troy starts watching Daphne through the door crack as she rubs lotion on her big tits while standing completely naked.Later Daphne and Harmony are at the pool oiling each other up as Troy is watching them from Daphne's guest room while he is jacking off. When Troy decides to take a nap Daphne and Harmony double team troy for a MILF threesome.Daphne sits on Troy's face while Harmony sucks his dick.Then Harmony rides Troy while he continues to lick Daphne's pussy.Afterward,both start sucking Troy's cock at the same time,and Daphne starts fucking Harmony with a dildo.Daphne then takes her turn riding Troy's cock as Harmony rubs a glass dildo on her ass hole.Then Troy fucks Harmony doggy style as she keeps on fucking Daphne with the dildo while Daphne lays on her back.Finally,Troy fucks Daphne missionary position with her legs spread,and then Daphne and Harmony take Troy's load on their big tits.
Daphne Rosen featured in the famous Ass Parade site in a scene named: Daphne Rosen Has It All.  As written in the Ass Parade site: Daphne Rosen has it all indeed. This voluptuous babe is it. She's so damn fine, with those massive tits of hers and that perfectly round ass that just looking at her makes me hard. I've been dying to meet her and finally I did. She has the fattest ass and the biggest fucking tits I've seen a while. I mean this is Assparade, but with this girl, you just can't do away with her tits. Daphne has got the perfect combo, huge tits and a fat ass. So we were chilling at my boy's pool when I just had her try on a bunch of clothes, just because it looked so damn good on her as she got it wet and then would take it off slowly for me. I played with that ass and that pussy until she was ready to suck on my cock. She sucked on that cock so hard… and then she would suck on my balls as hard as she could, that was it for me, after that I just wanted to fuck her and that I did. I fucked her pussy and then I got to fuck that fat ass of hers. She took it in the ass like a real pro. After all that heavy fucking I dispersed a huge fucking load all over her face. It was classic.

Daphne Rosen featured in the famous Big Wet Butts site in a scene named: Big Booty Hunter.  Big Booty Hunter James Deen is on for another adventure. He's heard about the existence of Big Booty Girl Daphne Rosen running free in the wild, and he knew he had to hunt for that booty. He invites the viewers on his adventure to capture, tame and penetrate the big booty.

Daphne Rosen featured in the famous Big Wet Butts site in a scene named: Big Butt Audition.  We ran into Daphne Rosen at the local mall, and let me tell you everyone was looking at this big busty curvy girl. We conned her into thinking we were a clothing manufacturer. She came back to our place without asking questions and we had her try many outfits, but the only outfit she was interested in was a big dick in her pussy and ass…

We hope that you enjoy all of this great porn featuring our Israeli porn star Daphne Rosen.